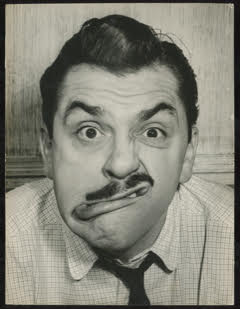 JOHN CLEESE TO RECEIVE THE ERNIE KOVACS AWARD
AT DALLAS VIDEOFEST 32 ON DEC. 4 at Texas Theatre
Dallas VideoFest is proud to honor actor and comedian John Cleese, best known for the British comedy, Monty Python's Flying Circus and Fawlty Towers, with the coveted Ernie Kovacs Award at 7 p.m. Wednesday, Dec. 4, at the Texas Theatre.
The trifecta anniversary celebration of the 100th anniversary of Ernie Kovacs' birth coupled with the 50th anniversary of the start of Monty Python's Flying Circus in the UK adding in the 45th anniversary of the British comedy making its debut of airing in the United States starting its American journey at Dallas' PBS station, KERA-TV. The trifecta culminates in John Cleese receiving the Ernie Kovacs Award.
Ron Devillier, retired programmer of KERA-TV, Dallas, who brought the broadcast of the Python series and the wonderful craziness surrounding the decision to do so:
"What a pleasure it is for me to be joining the celebration and salute to my two favorite comedy TV series: The Ernie Kovacs Show and Monty Python. John Cleese is the perfect Python rep to receive this Kovacs Award for his performance and writing in Python series of high comedy and misdemeanors.
"And not to be forgotten…. a tip of the hat to KERA-TV for rescuing Python's from possible obscurity, in the BBC's dust bin of unsalable films.
"The Ernie Kovacs Show of the 50s and the Monty Python series of the 70s are two outrageously original comedic creations that shattered the boundaries of television broadcast tradition in a most hilarious way. John Cleese, a key Python creator, and performer is a first-class selection to receive this Kovacs Award. Cleese's writing and performing in Pythons and Fawlty Towers are classics in the genre."
Audience members are encouraged to come dressed up as their favorite John Cleese charter, you can find may great props, accessories, and accouterments at our Sponsors The British Emporium
Dec 3rd Ernie Kovacs Centennial Retrospective

Come and celebrate the centennial of the birth of offbeat comedy genius, Ernie Kovacs, with this hilarious retrospective of his greatest live gags on early TV in the 1950s along with his career highlights, which have inspired the likes of Pee-wee Herman, Kids in the Hall, Amy Sedaris, Mike Nesmith, and Monty Python. Hosted by Dallas VideoFest's artistic director: Bart Weiss, Ernie Kovacs archivist: Ben Model, and Josh Mills, the son of Ernie's wife, Edie Adams. Tuesday, Dec 3rd at the Alamo Darfthouse Richardson
Major Sponsor Half Price Books
Event Sponsors:
Dallas Film Commission
,
Texas Commission on the Arts
,
Selig Polyscope Company
,
Acre Distilling Company
,
Alford Media
,
AMS Pictures,
ROXOR Artisan Gin
, Danny Curry, and
SullivanPerkins
Special thanks to Kelly Kitchens, Dev Shapiro, John Wildman, Barak Epstein, Gordon Smith, Adam Dietrich, Greg Metz, Reid Robinson, Paul Levatino, Niloo Jalilvand, Eric Jewell, The Dallas Zoo and The Prosimian Taxonomic Advisory Group and Ro the Brave